I am proud to admit that I have read every single Nancy Drew Mystery Story, as well as every single Hardy Boys Mystery Story. When I wasn't reading biographies in elementary school I was engrossed with Nancy and her mystery solving exploits with best friends, George and Bess. I was the perfect audience for these books. Obviously I wouldn't have made the best young detective myself because the stories always had me at the edge of my seat, I missed all the clues and never noticed anything. Every plot twist and turn was a complete thrill ride for me, and I was always surprised when Nancy could piece things together and solve the mystery. (I was the classic kid that would quickly turn to the back of the book to see exactly what Encyclopedia Brown had quickly figured out and I had not when I read those little 90 second mysteries).


Nancy Drew was one of the many strong female characters that influenced my life. Nancy was practically perfect in every way! Forgot that Disney-fied version of Mary Poppins (P.L. Travers' Mary Poppins was not always the cheery, perfect type), Nancy was the true example of a perfect female! Nancy Drew - the girl with perfectly coiffed hair, who drove a classic blue convertible, spoke French fluently, was a fabulous painter, could whip together a gourmet meal, sew some haute couture dresses, swim and run faster than anyone, and well traveled...did I mention she was always traveling around the world? Who didn't want to be Nancy Drew?
I mean, Come ON! Look how gracefully she can sit in the field and take apart a clock!
You know she didn't even muss her hair.
I bet she didn't even have to rummage around for that screwdriver.
Ugh, I hate when this happens...
I scream at the sight of a mouse, not Nancy. She's not scared of anything.
You know she hit that gun too and it probably broke in half, or flew through the air and she caught it.
The Clue in the Diary
This story finds Nancy driving down the road, where she sees a house on fire, quickly stops her convertible and runs to the house to check and make sure that no one is trapped inside.


Nancy Drew, everyday hero.


But then she spies a man getting into her car! Guess who? Ned Nickerson.
Of course this empty headed jock was simply moving her car out of the way, and then from that point on he is part of her life.
Granted he is an attractive college boy, involved at good ol' Emerson College, athletic, charming, and DUMB.
Seriously Nancy, you are too good for him.
And he always complicates things, and makes her life more difficult.
Too bad that River Heights and Bayport were so far apart as Nancy would have been a better match with Frank or Joe Hardy.
Look at these attractive, preppy boys!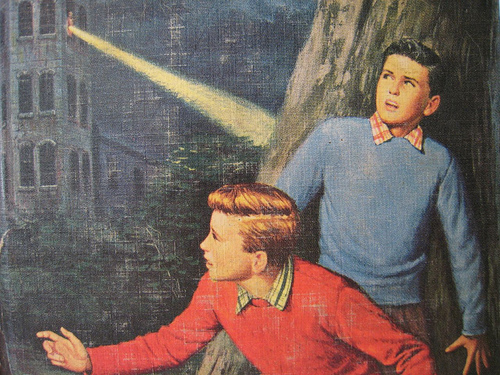 That is some nice hair!
There's that really intelligent look on Ned's face again...
Another example of Ned, like me, being completely surprised and not following how Nancy could surmise something from a clue.
Of course later on there were
Nancy Drew and the Hardy Boys Super Mystery series
In which Nancy,Frank, and Joe teamed up and solved mysteries. But I never read them, I had already moved on to Agatha Christie, and was busy spending my time with Miss Jane Marple snooping around the Vicarage in St. Mary Mead.
Nancy Drew is a series I'd highly recommend. Check out those fab Hardy Boys too.
Once the covers started showing Nancy in a swimsuit a la Baywatch, I can't vouch for them, but the first "Mystery Stories" are the best.
The original texts from the 1930's are an interesting read. They were all edited down in the 1960's and shortened. Plus they made all the villains less "racisty".
The language of those old 1930's books is wonderful though, and such a reminder of how far we have fallen with expectations of what children can read and understand, and how poor our common usage of language has become.