Today is a post in celebration of the art of Garth Williams. Garth Williams illustrated many books that are now some of the classics of children's literature. So many of his illustrations have become as much a part of the stories as the text is.
Bedtime for Frances
text by Russell Hoban
(I love this picture. It is when Frances comes in to the room and is "the quietest thing in the room"...reminds me of my own son)
Little Fur Family
text by Margaret Wise Brown (he did many books with her)
This book was similar to Pat the Bunny. It had pieces to touch.
Wait til the Moon is Full
Once upon a time in the dark of the moon
there was a little raccoon.
He lived down in a big warm chestnut tree
with his mother -- who was also a raccoon.
This little raccoon wanted to see the night.
He had seen the day.
So he said to his mother,
"I want to go out in the woods and see the night."
But his mother said, "Wait. Wait til the moon is full."
So he waited, deep in his warm little home under the chestnut tree.
The Little House on the Prairie
Series by Laura Ingalls Wilder
Charlotte's Web
by E.B. White
The Cricket in Times Square
by George Selden
Three Bedtime Stories
The Giant Golden Book of Elves and Fairies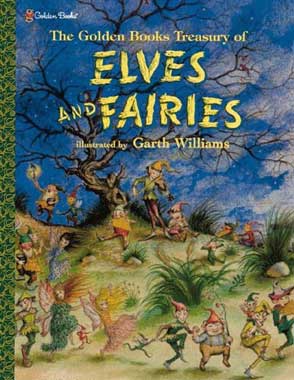 The Rabbit's Wedding
Written in 1959 in the midst of the civil rights movement,
The Rabbit's Wedding
was banned in Alabama because it featured the marriage of a black rabbit and a white rabbit."I was completely unaware," he said ironically, "that animals with white fur such as white polar bears and white dogs and white rabbits were considered blood relations of white human beings. I was only aware that a white horse next to a black horse looks very picturesque…"
Three Little Animals
by Margaret Wise Brown
Fox Eyes
by Margaret Wise Brown
Home for a Bunny
by Margaret Wise Brown
"Where is your home?" he asked the frog. "Wog, wog, wog," sang the frog.
"Wog, wog, wog, Under the water, Down in the bog."
Do You Know What I'll Do
by Charlotte Zolotow
(This is one of the sweetest books. It is for a younger sibling, from an older sibling. Beautiful!)
Do you know what I'll do
at the seashore?
I'll bring you a shell to hold
the sound of the sea.

Do you know what I'll do at the party?
I'll bring you a piece of cake with the candle still in it.
Over and Over
The Family Under the Bridge
by Natalie Savage Carlson
Stuart Little
by E. B. White
(the first book that Garth Williams illustrated)
The Rescuers
by Margery Sharp