Not the chance for many blog posts lately, busy time of year...4 more days left of school (YEAH!!!). Let me tell you that I am trying to not focus on the countdown, but it is difficult as I'm so excited for summer break to begin. Another reason is that six days after school ends we head to Europe for three weeks. Another thing I'm so excited for (YEAH!).
Of course this brings about the opportunity to discuss two great books, both of which are being referenced at my house in preparation for the trip to Europe.
Cathedral: The Story of Its Construction
by David Macaulay
David Macaulay is a brilliant draftsman. In 1973, he wrote and illustrated, Cathedral: The Story of Its Construction. This was a first in children's books. Previously books had primarily been fictional, the picture book world rarely included non-fiction, let alone something of this magnitude.
Cathedral documents the planning and construction of a Gothic cathedral in a French town (imaginary) during the 13th century. The book is in essence the story of Chartres cathedral in France. This book is quite fun to pour over and study. It follows the progression of design and construction of a medieval cathedral, not an easy feat. It is a fascinating book.
These are great books to just look through and admire the amazing drawings of architecture. This is also a great book to look through while reading Ken Follet's The Pillars of the Earth (which I'm reading ).
(illustration showing the foundational arches which will provide support for the cathedral)
In 1977, he followed up with Castle. Both books won Caldecott Honor medals.
Castle follows the path of King Edward I (remember good o'l Edward Longshanks?) in 1283 and his acquiring of land through castle and town construction. It i

s fascinating to read through all the logistics of building a town and castle. Many workers and materials needed, a fitting job for a king..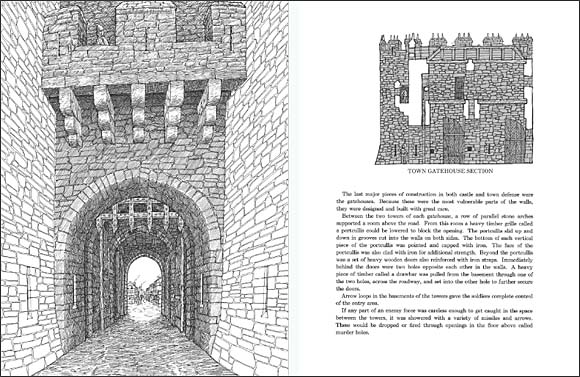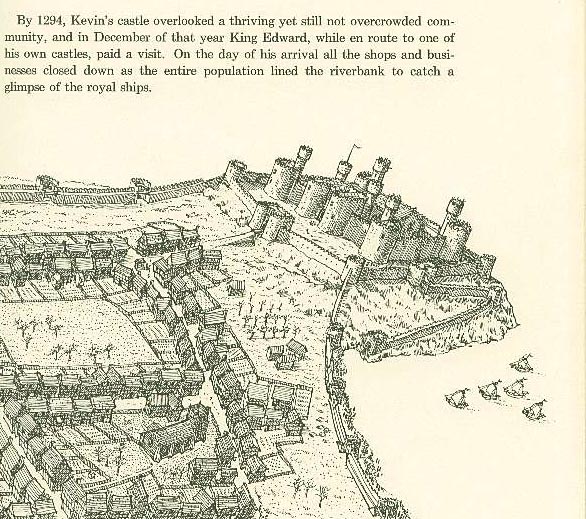 PBS also had some programs hosted by David Macaulay. Here are the links for Cathedral and Castle - they are both pretty awesome. Enjoy!
Cathedral
and
Castle