I haven't blogged much lately, or really since summer started. In my defense, I did spend a little over three weeks in Europe. Since my return, and while there is still not a plethora of daily responsibility, I have been reading and reading and reading. More on much of what I've been, and what I currently am reading to follow.
The boy and I always have a book we are reading together. We just finished The Adventures of Huckleberry Finn by Mark Twain. Twain is one of my favorite writers. I relish much of what those American writers have written. This was my seventh reading of ol' Huck. The boy and I had previously read The Adventures of Tom Sawyer, and he also read that again at school. This was his first dip into Huck. I'm not going to dip into all my thoughts on Huck and Tom and Twain right now, but boy, that Mark Twain sure can write a book!
Of course now we are at the challenging part where we choose the next book. Truth is I dictate what we read. Don't be fooled, I don't run a democracy, I'm a full on dictator in my house. I pretend that there are choices, I usually pull four or five books and present them to the boy for us to choose from.
Yesterday I pulled five books, Great Expectations by Charles Dickens, Tale of Two Cities by Charles Dickens (pushing the Dickens obviously), Frankenstein by Mary Shelley, Kidnapped by Robert Louis Stevenson, and Where the Red Fern Grows by Wilson Rawls.
I presented these five titles to the boy, he looked through them and immediately protested the inclusion of Where the Red Fern Grows.
"No way, not reading this one," he said.
I asked him if he'd already read it and what his protest was.
"Sad. It will make you cry." He told me.
He explained to me that anytime there is a dog, or other animal on the cover of a book it is sad, you'll cry, and usually the animal dies. I wondered if he had found some truth I wasn't fully aware of, and realized there might be something to this.
I thought of the other books with animals on the covers that I've read with the boy:
The proposed book:
Where the Red Fern Grows
by Wilson Rawls
synopsis: sad, will make you cry, dogs die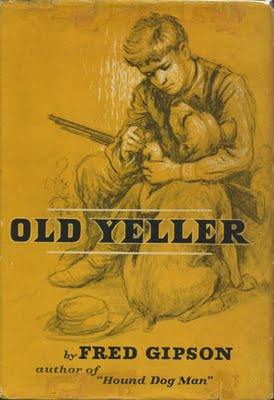 Old Yeller
by Fred Gipson
synopsis: sad, will make you cry, dog dies
The Yearling
by Marjorie Kinnan Rawlings
synopsis: sad, will make you cry, deer dies
Sounder
by William Armstrong
synopsis: yes again...sad, crying, dead dog
The Call of the Wild
by Jack London
synopsis: sad, but really adventurous, maybe a sniffle, dead dog
Bambi: A Life in the Woods
by Felix Salten
synopsis: sad at times, and maybe some tears, death but Oh!! So worth it!
I realize why he has come to this conclusion.
I think we are going to read some Dickens.
+++++++++++++++++++++++++++++++++++++++++
Here are some of my favorite Twain quotes:
"Action speaks louder than words but not nearly as often"
"

Whenever you find yourself on the side of the majority, it is time to pause and reflect."
"Books are for people who wish they were somewhere else."
"Never allow someone to be your priority while allowing yourself to be their option."
+++++++++++++++++
"Twenty years from now you will be more disappointed
by the things that you didn't do
than by the ones you did do.
So throw off the bowlines.
Sail away from the safe harbor.
Catch the trade winds in your sails.
Explore.
Dream.
Discover."
+++++++++++++++++++++++++++++++++

"My kind of loyalty was loyalty to one's country, not institutions or officeholders.
Country is the real thing;
the thing to watch over, care for, be loyal to;
institutions extraneous, they are mere clothing,
& clothing can wear out, become ragged, cease to be comfortable,
cease to protect the body...
To be loyal to rags, to shout for rags,
to worship rags, to die for rags
-that is a loyalty of unreason."
--Mark Twain
+++++++++++++++++++++++++++++++++++++++++++
"Let us endeavor so to live
even the undertaker will be sorry."

The Tragedy of Pudd'nhead Wilson and the Comedy of the Extraordinary Twins