However I've always held the Newbery Award to a standard that I assumed was a mark of excellence and that even if I didn't LOVE a book, I would at least find merit and enjoy it (which I've since found out to be untrue).
An interesting thing for a book nerd like me, is to read some of the winners in chronological order and I get a glimpse into the mind of the committee and what they perceived as excellence, as well as the factors of culture and time. But most people won't care about that I know.
Here are a few of my summer Newbery reads that I loved:
Inside Out & Back Again
by Thanhha Lai
I loved this book so much that I've been itching to read her latest book but have been "pacing" myself:
Listen, Slowly
This novel,
Inside Out & Back Again
, written in verse, has won all sorts of awards and accolades. It is based on the author's own experience of coming to the United States as a Vietnamese Refugee at the age of 10. She and her family arrive in Alabama from Saigon and the family struggles to adapt and meld into American life. It is beautiful and lyrical and full of love and happiness and a wonderful account of the immigrant experience.
Eye opening for me.
In one scene in the book,
Kim Hà
(the young girl) returns to school from Christmas break wearing the new warm plaid dress she received as a gift from a neighbor. All the students giggle and laugh because it is a nightgown. One girl explains to her that she should have realized it was a nightgown because of the small flower applique at the neck. She rips the flower off and then tells the kids that now it is a dress.
Some portions are quite memorable, such as
Kim Hà'
s difficulty with English.
"Whoever invented English
should have learned
to spell."
I cannot recommend this book enough!
A Single Shard
by Linda Sue Park
First of all this is a good example of bad cover art versus good cover art. I've owned this book forever, and frankly it never stood out to me as a Newbery I was excited to read. I owned this title:
That cover maybe works for you but to me it said "boring". In my book purchasing I saw the paperback version at the top and was intrigued and purchased it. The paperback cover, with those wonderful green tones, captivated me and made me want to read it. I talk about the various cover art on a book and how it can pull a child in or push a child away much more frequently than we as adults even consider. This for me was a good example. But I digress...
This story is set in 12th Century Korea, a time I knew nothing about. Tree-Ear is an orphan who lives in a small village known
for their celadon pottery. He spies on a master potter wishing to learn the trade. Through a course of accidents and interactions he become the worker for the master potter and eventually embarks on a long travel to bring the master's work to the Emperor. The books is quiet and very well written.
Heart of a Samurai
by Margi Preus
Author Margi Preus is a native Minnesotan, so I was glad I liked this book.
The story is based on the true account of a young Japanese boy who is considered the first Japanese to ever set foot in America. He is shipwrecked in 1821, with other poor fisherman from his village and picked up by an American ship and brought to Hawaii. He eventually is taken in by an American sailor who bring him to Massachusetts. He eventually returns to Hawaii and works his way to return to Japan where he is immediately held as a spy for a foreign country. This is during the time of the Shogunate when Japan had isolated itself from the outside world and any Japanese that left and returned would be put to death as a traitor. However the Emperor recognized the knowledge and wealth of information in young Manjiro and brought him in to tutor his children. He eventually taught Math, English, and ship building in Japan and introduced the whaling industry. He also translated the American Practical Navigator, written by Nat Bowditch (which was interesting as I'd just finished reading
Carry On Mr. Bowditch
right before I read this. An EXCELLENT story as well, and a book that has one of the absolute worst covers ever!).
This all sounds dry and dull, factual and not very enticing for a young read, but it isn't. It's exciting and has some wonderful suspense-filled moments. The fortitude and resilience of Manjiro is quite compelling, especially considering how young he was through all of these events.
A great read aloud!
Moon Over Manifest
by Clare Vanderpool
This is one of the longest Newbery winners out there, and I won't deny that I feel it could have been edited down a bit. However the story is really interesting, and a fun read. It is set during the depression and is an atmospheric southern small town type story.
Abilene is sent to Manifest, Kansas, to live with her father's friend while he is gone working on the railroad.
She finds a hidden box of mementos, letters and photos and slowly pieces together the mystery of the story they tell and how it involves her father.
It was a fun, floating in the pool in the sun type book.
My caveat is only that pieces of the mystery are put together for Abilene by a local diviner. She's really a kooky old lady, but if you have an issue with diviners etc. that's a component of the story.
The Crossover
by Kwame Alexander
This is the Newbery winner from last year, 2015. It is another story told in verse, a style I haven't always cared for, but this book does it exceptionally well. It truly reads lyrically as poetry in many parts.
The story is of two twin brothers, their life as basketball players as they grown up and drift apart going into junior high. This is not just a sports story, it's a wonderful coming-of-age story filled with family dynamics and life lessons learned. It's also a very good choice for a reluctant reader and can be pointed out that even though the book looks large, the verse style means it reads much quicker that the child may think it will. (This can be a selling point with books as children often like books they think are shortest).
This book was great and Kwame Alexander just released his next novel
Booked
which I haven't read yet, but is short listed for many awards for 2016.
So there are more Newbery books I'll get to later that have been hits for me.
But here is my latest miss. When I say it was a "miss" I don't mean I hated it however I just had higher hopes for the book and expected to really enjoy it. I know this title is absolutely raved by some and so it is still worth checking out.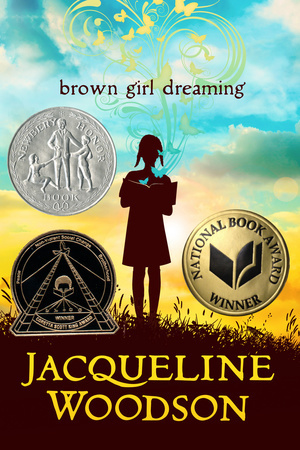 Brown Girl Dreaming
by Jacqueline Woodson
This won just about every award it could in 2015. It's another told in verse. It had many aspects that I truly enjoyed, but it just fell apart for me near the end and seemed too long and too specific about Jacqueline Woodson's evolution into a writer. It became a book too specific about books (weird I didn't enjoy that one) about authors, about writing and lost my interest.
It is the author's memoir of growing up as a young black girl in the 1960's and 1970's in South Carolina and then New York. The author is a wonderful writer and portions of this book are lyrical and beautiful. It is a book that many people whose opinion of books I hold in high regard have loved, so it is still a book I would definitely recommend to people to pick up and read and make their own decisions upon.
Happy Reading!