Tomorrow is Mother's Day. It got me thinking of all the famous mothers in children's literature.
Of course there are those that aren't great, those no one wants to emulate such as
Mayzie the Lazy Bird from
Horton Hatches the Egg
She bores of her nest sitting and quickly finagles Horton the elephant to sit on her nest until it hatches, and then she wants to quickly claim her baby back.
Sighed Mayzie, a lazy bird hatching an egg:
From sitting, just sitting here day after day.
It's work! How I hate it!
I'd take a vacation, fly off for a rest
If I could find someone to stay on my nest!
If I could find someone, I'd fly away-free…"
Or some of the poor examples of parenting that author Roald Dahl creates in his works.
For example Matilda Wormwoods mother in
Bad mothering (and fathering there). Mrs. Zinnia Wormwood famously tells Matilda's teacher, "You choose books, I choose looks".
Charlie and The Chocolate Factory
also has some great mothers. Mrs. Gloop who encourages the gluttonous behavior of her son Augustus, Mrs. Beauregarde with her obsessive gum-chewing daughter Violet, Mrs. Salt and her indulged brattish child Veruca, and Mrs. Teavee who child is television and gangster obsessed.
But in the world of literature there are some wonderful mothers as well.
A Chair for My Mother
a wonderful story of a small girl looking to replace her mother's chair that was burned in a fire.

or the wonderful mother of Little Bear in the Elsie Holmelund Minarik books
Little Bear
Little Sal's mother who takes her out to pick blueberries to can for the winter in
Blueberries for Sal
Ma Ingalls in the Little House on the Prairie series of books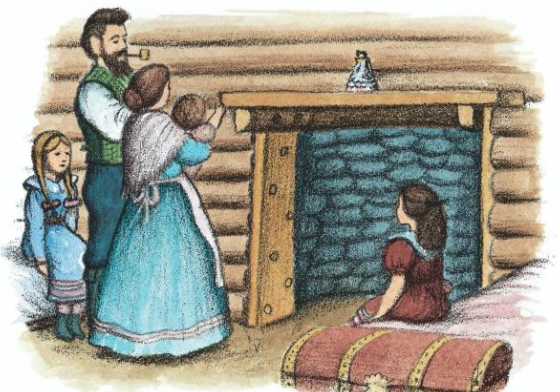 Another of my favorites is the patient and wise mother of the little badger, Frances, in Russell Hoban's Frances books.
One of our favorite mothers was the mother in
Mama, Do You Love Me?
It was wonderful to have a mother in a book that could tell a child that even when I'm angry I still love you.
In
Alexander and the Terrible, Horrible, No Good, Very Bad Day
After everything goes wrong for him that day, and he is so dejected, his mother reassures him that some days are like that, but things will always get better.
One of the traits of a good mother, offering the promise of hope over and over to our children.
Or forgiveness and patience, such as Max's mother in
Where the Wild Things Are
Even after Max tells her he will "eat her up" and is sent to his room without supper, she still brings him a hot supper, and he is confident in the fact that home with his mother is where he is loved best of all.
Mothers also live selflessly, willing to do anything to protect their children.
Just as Mrs. Frisby acts in the wonderful story of
Mrs. Frisby and the Rats of NIMH
Sometimes others step in to take the role a good mother. Such as the fish in The Cat in the Hat.
A surrogate parent and giver of wisdom and advice while the children's mother is out.
There are such wonderful examples of mother's in literature.
The best way to honor them is to grab a book and sit with your child and read it.
I try to be this kind of mother, and have a mother who embodies all of these things and more. I fondly remember growing up while my mother would sit at the edge of my bed reading to me before sleeping.
Instilling the love of stories and literature into me.
Here's a little ode to some of the mother's that have shaped us over the years!
Kanga from
Winnie the Pooh
A Sorely Trying Day
The Snowy Day
by Ezra Jack Keats
Charlotte in
Charlotte's Web
Mrs. Ray in the Betsy-Tacy series
Mrs. Duckling in
Make Way for Ducklings
Hush!: A Thai Lullaby
Little Red Riding Hood
illustrated by Trina Schart Hyman
Rumpelstiltskin
illustrated by Paul Zelinsky
Sylvester and the Magic Pebble
The County Bunny and the Little Gold Shoes
Runaway Bunny
The Keeping Quilt
Are You My Mother?
Ramona and Her Mother
Happy Mother's Day!!