"The eyes are the windows of the soul....
If someone was to look into your eyes,
what would you want them to see?"
-- from The Mixed Up Files of Mrs. Basil E. Frankweiler
The world of children's literature just lost a prized author.
E.L. (Elaine Lobl) Konigsburg passed away on April 20, 2013, at the age of 83.
She is the only author to win both a Newbery Award Medal and a Newbery Honor Medal in the same year for the books
From the Mixed-Up Files of Mrs. Basil E. Frankweiler
Newbery Award Medal, 1967
and
Jennifer, Hecate, Macbeth, William McKinley, and Me, Elizabeth
Newbery Honor Medal, 1967
From the Mixed-Up Files of Mrs. Basil E. Frankweiler
is one of my favorite books and I have read it several times throughout my life. It carved a niche in me. There are things I felt I could relate to about Claudia, she wanted to run away, and she wanted her life to
feel
differently. There is something beautiful and bittersweet in this book that each time I read I stumble upon again, yet in writing about it I can't quite express what it is.
There is the fun and adventurous sides to this story as well. How fun to hide out in New York's Metropolitan Museum of Art and late at night, when everyone has left, get to look around and interact with all the treasures.
Of course I've blogged about this book before, that's how much I like it. I also mentioned, and will add again that when reading with my child he was far less able to suspend questions of disbelief on how one would be able to hide out in a museum and not set off sensors and alarms. Darn modern kids...
Anyway, this passage from the book maybe says what I'm trying to express. Mrs. Frankenweiler tells Claudia,
"I think you should learn, of course, and some days you must learn a great deal. But you should also have days when you allow what is already in you to swell up inside of you until it touches everything. And you can feel it inside of you. If you never take time out to let that happen, then you accumulate facts, and they begin to rattle around inside of you. You can make noise with them, but never really feel anything with them. It's hollow."
Thirty years later she won the Newbery Medal again for
The View From Saturday
Newbery Medal Award, 1997
This book is a type of mystery, full of puzzles and an interesting read.
She also wrote several other books, including one of my favorites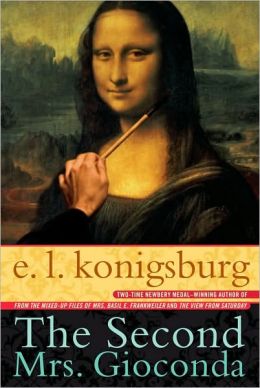 The Second Mrs. Gioconda
This book is a wonderful read of historical fiction on Da Vinci and his painting of the Mona Lisa.
In an interview with Houghton Mifflin Reading in 2011, E.L. Konigsburg said that she always tells children
"
Before you can be anything, you have to be yourself. That's the hardest thing to find."