My oh my, will you look at that? It has been a long gap since I last blogged.
This is due to several things which I will give a little update on.
First of all, summer happened. Writing this mid-January it seems that warmth and sunshine are a distant memory, but it did happen. I admit that I read more, but I also tried to be outside and offline a bit more, so there was that.
Second, we had a family wedding. That was wonderful and beautiful but took up some of my time trying to do my hair while we lacked power. (The wedding hit on the weekend of a crazy storm with most of the city, including the church, not having power.)
Third, we traveled again to Europe. How blessed I am to have these trips. This trip was to Germany, cruising the Rhine, visiting the Romantic Road, and extensive time in France: Paris, Provence, and the French Riviera, and a short stop in Monaco. Bliss...
The last reason I have blogged less is that I will admit that I have felt burnt out. It's not a good feeling and that coupled with the fact that I have felt disheartened by much of the current children's literature and haven't read anything that has sparked a fire in me, has left me lacking and not motivated to blog. I usually focus my summer on reading new books, current published reads, new award winners, and books making all the "must read" lists. Mostly these books all left me flat and feeling rather sad. So many of them are issue based, such as the story of a girl who has an eating disorder (the book is about the issue, not the character so her name doesn't even stay with you). The focus seems to be so strong on issues, people suffering, abused children, pregnant teens, drug addicted siblings and a family grieving. AUGH! I couldn't take it anymore....
There are still MANY fabulous books out there, but maybe I'm getting old and out of touch because I realize very few things are newly authored. I often read a middle-age book and think, "would I pass this along to one of my nieces?" and answer with a resounding "NO"!
I read a few books that I did enjoy.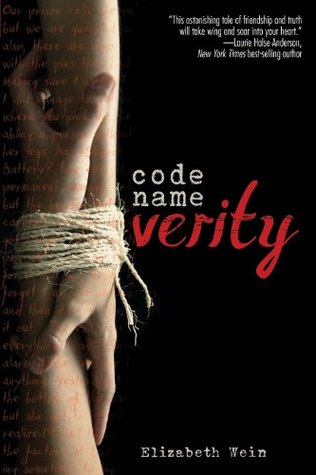 Code Name Verity
by Elizabeth Wein
A great spy story. A British pilot and British passenger aboard a British spy plane crashes into Nazi-occupied France. The British spy, "Verity" is captured by the Gestapo and is interrogated with the choice to reveal her mission or face execution.
It was very good. It was historical fiction (my fav) and it was set in Europe (like that too). But there were still a few things that made me think (errr...maybe for an older reader).
I also read
Bomb: The Race to Build - and Steal - the World's Most Dangerous Weapon
by Steve Sheinkin
This is a great non-fiction account, which reads like fiction, like a wonderful mystery story in fact! This is the account of the race to build the Atomic bomb.
It does include a bit of scientific information, and would be challenging for a young reader, but it is really an excellent account, and so very well written.
Fast forward several months, and here I sit in the beginning of 2014. I have decided that I do miss blogging, but will allow myself the joy of reading the books that I expect to give me joy and spark my desire to blog.
So off I go, I just picked up a stack of books by Ingri d'Aulaire. I have been very obsessed with all things Nordic and am going to go and dive into these:
Ola
Children of the Northlights
and
D'Aulaires' Book of Norse Myths
Enjoy and Happy Reading!