It's been a little breezy here in Minnesota.
It's so cold that we have had three days of school canceled due to low temps and dangerous wind chills. It's good time to snuggle down, sip some hot chocolate, wrap yourself in wool, and read.
Here's a few books for the youngsters that I recommend that continue with this COLD wintry theme!
Cold Snap
by Eileen Spinelli
An adorable story about the people in Toby Mills who experience a cold snap. How will they manage? Cute, and fun (but really nothing compared to the temps here).
The majority of wintry books are really more about snow than simply cold. These are some classics.
The Snowy Day
by Ezra Jack Keats
Caldecott Medal, 1963
This is a classic. Who isn't familiar with this book? Again, this is another book that reminds me of Captain Kangaroo. He read this one quite a bit. Ezra Jack Keats used collage as his medium for the illustrations, which are vibrant and vivid. This was a first for the time. It was also one of the first books which had the main character be a boy of color, and also one who lived in an urban setting. Keats captures the amazement and wonder of the first snowfall, and the joys had while playing outside.
Peter, the main character, is in seven more of Keats' books. The reader is able to follow him as he grows up.
The Big Snow
by Berta and Elmer Hader
Caldecott Medal, 1949
This story follows many animals of the forest and meadows, and how they prepare for winter and the cold. It contains a lot of information, and is really more information than story. But there is much to learn and see! Little animals foraging food, storing away, building soft, snuggling places to sleep. The big snow in the end comes and the humans that live near the forest put out food for the animals to eat. The pictures are really beautiful.
by Uri Shulevitz
Caldecot Honor Medal, 1999
A young boy hopes for snow, and as one, then two snowflakes fall, all the adults poo poo the snowfall. The snow continues and the city, which is at first gray and gloomy, becomes vibrant with the new snow.
Katy and the Big Snow
by Virginia Lee Burton
Another classic. Many readers may only be familiar with Burton's story of Mike Mulligan and the Steam Shovel. Katy is a big red tractor, fitted with a plow blade. After a big storm, everything is snowed under until Katy can come and plow them all out.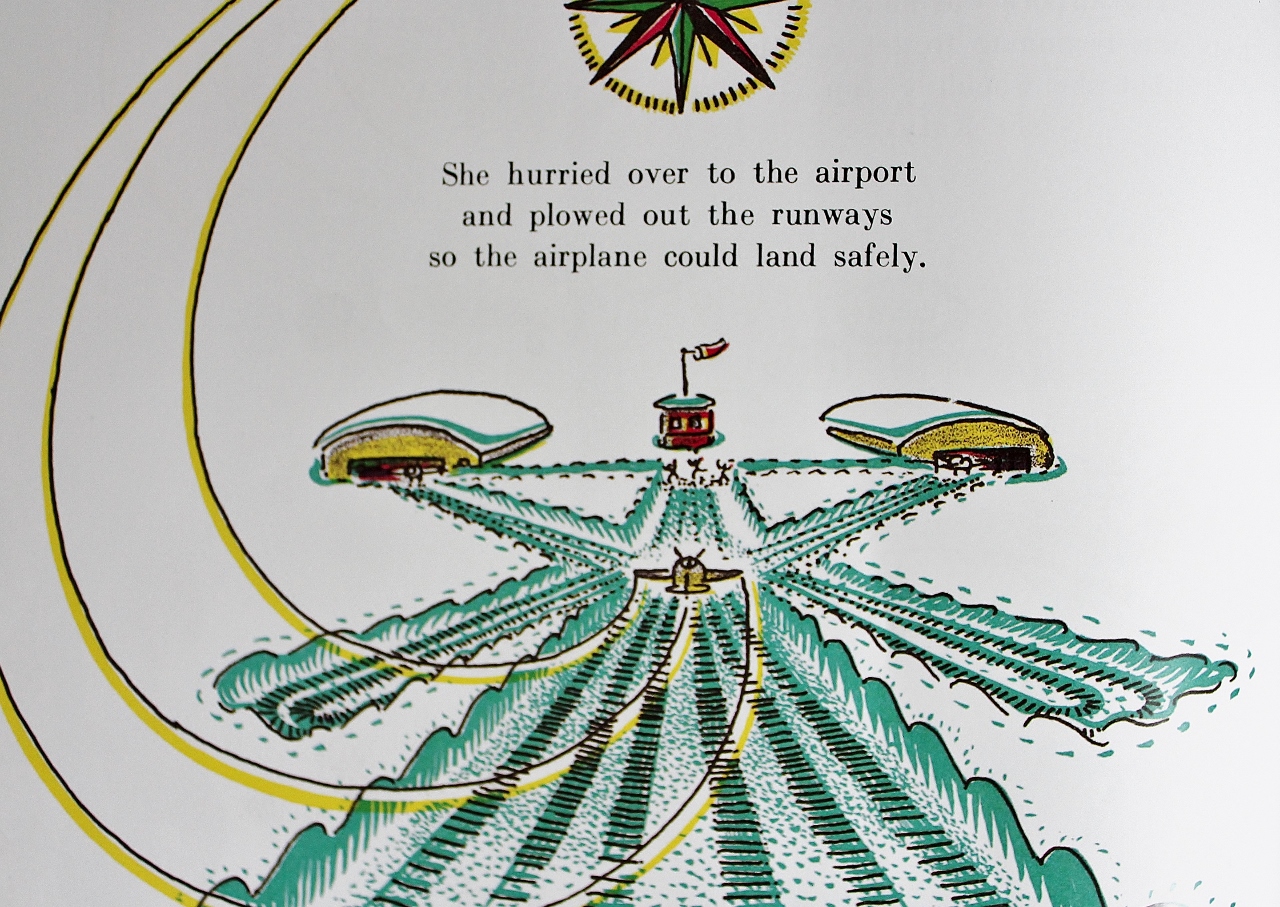 White Snow Bright Snow
by Alvin Tresselt and illustrated by Roger Duvoisin
Caldecott Medal, 1948
Another oldie but goody where one snowflake soon leads to an entire blanketing of snow.
The illustrator, Roger Duvoisin, is also well known for his books starring Petunia the goose.
One my absolute favorite winter books is that of the
The Tomten
and the
Tomten and the Fox
both by Astrid Lindgren with AMAZING illustrations by Harald Wiberg.
You can read a post I did all about these books here:
Winters Come and Winters Go...the Tomten
To continue in the Nordic vein, another beautiful book of Winter is
Ollie's Ski Trip
by Elsa Beskow
If you aren't familiar with Elsa Beskow, run right out to your library and get a few of her books! Her illustrations are beautiful.
In Ollie's ski trip, a little boy gets his first pair of skis and heads out on an adventure. He meets King Winter, and Jack Frost, and visits Winters icy palace. Soon Mrs. Thaw makes an appearance (she's my hero). A lovely story.
Stopping by Woods on a Snowy Evening
by Robert Frost and illustrated by Susan Jeffers
Many are familiar with Frost's poem, and it is fabulously enhanced by the illustrations of Susan Jeffers.
Brave Irene
by William Steig
A little girl offers to take a dress her mother has made for the Duchess and deliver it because her mother is ill. Irene is brave, and all sorts of wintry calamities befall her. She is snowed on, falls in snow, tumbles through snowdrifts, slides down hills and loses the dress. But in the end her plucky spirit and bravery are rewarded. You will love Irene.
Waiting for Winter
by Sebastian Meschenmoser
Young squirrel decides to stay awake, instead of hibernate (hmm...the squirrel's where I live don't hibernate?) in order to have the chance to see snow. He decides to exercise to keep himself awake, and ends up waking his neighbor. Once his neighbor decides to stay awake to see snow also, they sing songs to stay awake and end up waking bear...it's a cute, and silly read for young ones. Pretty delightful illustrations.