Since March is Women's History Month I'd like to highlight a few great picture book biographies throughout the month. Here are a few to begin checking out:
Voice of Freedom: Fannie Lou Hamer: Spirit of the Civil Rights Movement
by Carole Boston Weatherford
A poetic telling of the life of Fannie Lou Hamer and her journey towards civil rights. Most of the women that drove the movement have been overlooked throughout history, so this is a wonderful picture into a lesser known figure.
Bon Appetit! The Delicious Life of Julia Child
by Jessie Hartland
Simply Delightful! Written more in graphic novel form, but a fun picture book recounting Julia's life becoming the famous chef that she was.
Martina & Chrissie: The Greatest Rivalry in the History of Sports
by Phil Bildner
I love the illustrations in this one in particular. This chronicles the parallel lives of these two tennis greats and their fantastic rivalry on the court, and friendship off of it. A great snippet in time also with Martina being from the USSR.
Georgia in Hawaii: When Georgia O'Keeffe Painted What She Pleased
by Amy Novesky
There are multiple picture books on Georgia O'Keeffe however none are as beautifully illustrated as this one. The pictures are stunning and it is an interesting view into a time of her life.
Wangari Maathai: The Woman Who Planted Millions of Trees
by Frank Prevot
This is a good account of the 2004 Nobel Peace Prize winner Wangari Maathai. She, along with her organization, planted over 30-million trees in Africa to assist in sustainability and as a form of nonviolent protest.
Miss Mary Reporting: The True Story of Sportswriter Mary Garber
by Sue Macy
I had no idea who Mary Garber was, however she was the first female sports writer in America. She began her career in the 1950's when NO woman was writing about sports, or ever given a voice to discuss a man's world.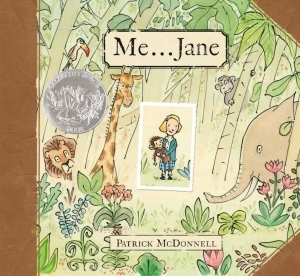 Me...Jane
by Patrick McDonnell
I cannot explain how much I love this book. It is a very simple story of a young Jane Goodall. Most of the information on her future career and life with chimpanzees comes in a page at the end of the book. But the pictures are delightful of young Jane and her stuffed chimpanzee, definitely one to look for!
Happy Reading!