The Wheel on the School
by Meindert DeJong
Newbery Award Medal, 1955
Let me start by saying that I just read this book. I've been slowly trying to read through the list of all the Newbery Award books. This one, from 1955, seemed promising. The blurb was that it was about school children in The Netherlands who wondered why storks no longer returned to their town, and how they set out to resolve this. I thought this sounded sweet and delightful, yet only now got around to reading it.
I began to read it and immediately they ascertained that to lure the storks they needed trees and wheels on the roofs of their buildings, neither of which they had. I thought that since now we know why they don't come, why could we possibly have 280 more pages to go? I was worried this book might be a yawn.
As it turns out, the stork and nests are only the framework for the real meat of the story. As events unfolded, I became completely enraptured with this story. The school children (all six of them) are all focused and determined to bring storks back to their village of Shora. Inevitably, they end up uniting their small community, and creating wonderful relationships with the elders of the village, as well as a disabled recluse. Throughout the story we see relationships fostered, problem solving handled, crisis averted, and other wonderful situations of life all while hoping to bring the storks back to Shora.
It isn't easy to have a hope and a dream, and to try to realize how to bring dreams to fruition. This story has a wonderful, happy ending, but doesn't come to it in a quick, nor easy way. This story is really lovely, and would make a wonderful read aloud with younger children.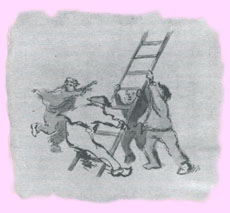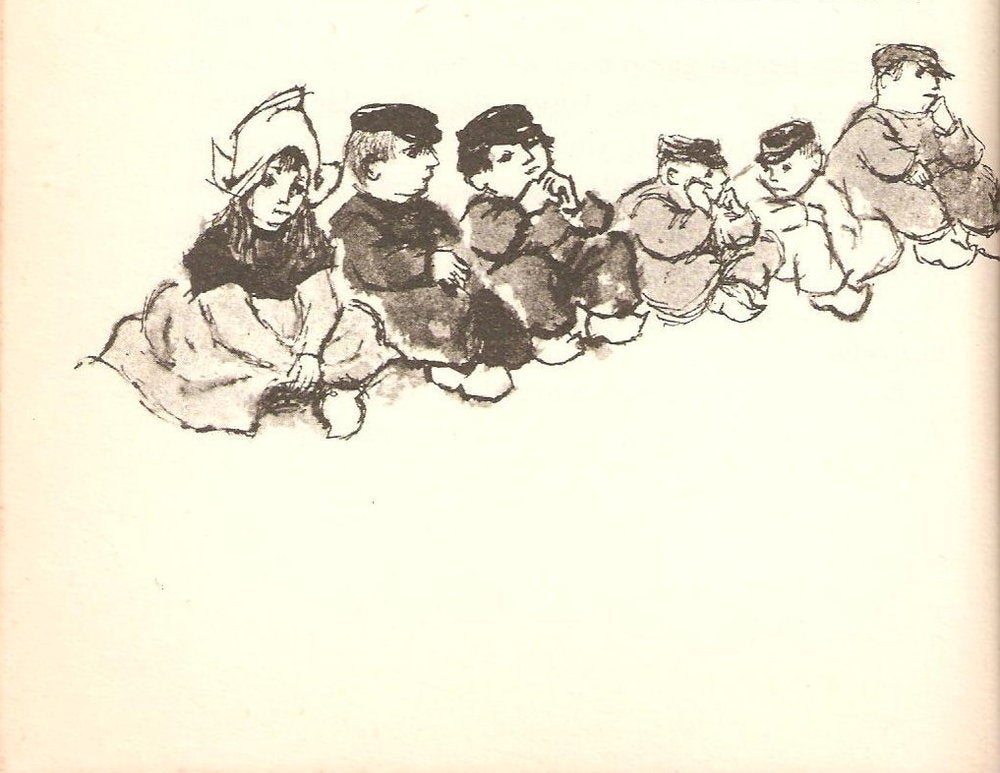 I realized I didn't really know too much about storks, nor about this remote island area of The Netherlands along the North Sea. It's always wonderful when a book stirs our desire to learn more about new things. This book would be a great tool to jump off to do a unit study on birds and their migration, or on the Netherlands.
The author, Meindert DeJong is the award-winning author of many classic books for children. DeJong was born in Friesland, the Netherlands, and immigrated to the United States in 1914. He served in WWII in China. This book was awarded the Newbery Medal in 1955. The Newbery recognizes the most distinguished contribution to American literature for children each year.
Another bonus is the wonderful illustrations by Maurie Sendak (of
Where the Wild Things Are
). Six of DeJong's books were illustrated by Sendak.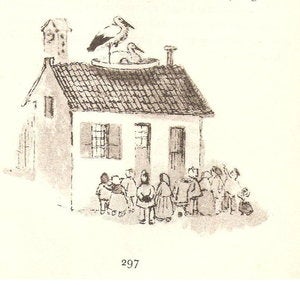 Enjoy!
Below is a photo of a diorama a child made while studying the book. Links below.
http://www.squidoo.com/the-wheel-on-the-school
http://learning-is-life.blogspot.com/2010/09/wheel-on-school.html