One of the most prolific childrens authors is Beverly Cleary. Her books have long been a mainstay in libraries, homes and classrooms.
Beverly Cleary was a librarian (ahhh...) and wanted to write books for and about the everyday child that she worked with and saw in her life and neighborhood.She began writing with
Henry Huggins
in 1950
The first in a series of classic stories about Henry Huggins, a kind boy and his friends in 1950's America. Henry is every boy.This story is wonderful and begins with him finding a flea bitten, skinny (ribs showing) dog, which he calls Ribsy. His parents easily let him bring the dog home, and the book continues with the daily exploits of Henry, his dog Ribsy, and the other children that live on Klickitat Street in Portland, Oregon.
(Side question - were parents more permissive in the 1950's? It seems as though the idea of bringing home some wretched animal, whether dog, racoon or what have you, was easily answered with a YES! This wouldn't happen now would it? Or is that just my house?)
Henry, Ribsy and friends continued on in a string of books.
Henry and Beezus
1952
Henry's neighbor, Beezus (short for Beatrice), helps Henry figure out a way to earn money to buy a new red bicycle.
Henry and Ribsy
1954
Henry's father will take him salmon fishing if he can keep Ribsy from getting into trouble for two month. Hard to do.
Henry and the Paper Route
1957
Henry and the Clubhouse
1962
*Note how much use little red wagons get! (Good thing Henry Huggins has one!)
Ribsy
1964
Ribsy was the last of the Henry Huggins books, and mostly centers on Ribsy.
From the first Henry Huggins book, we also meet the pesky little sister of his friend, and neighbor, Beezus. This little girl is Ramona Quimby.
Beezus and Ramona
in 1955
This was the first book that Beezus and Ramona were focused on, and weren't just neighbor children for Henry. Beezus is 9 and Ramona is 4. This book is humorous and follows Beezus and her tribulations of having a 4 year old sister.
Tribulations such as the fact that Ramona loves one specific book about a steam shovel. Beezus reads this book to her all the time, yet tires of it, so she takes Ramona to the library to pick out a new book. Ramona does things like insist on wearing her Easter bunny ears to and from the library, much to prim Beezus' chagrin.
Ramona is often exasperating both to Beezus and to Henry. Really she often just acts like a spirited four year old.
Ramona the Pest
in 1968
The second Ramona book follows Ramona as she begins kindergarten. She still often finds herself in trouble, even though she very much wants to be good, and have her teacher, Miss Binney, love her.
Things happen though to easily distract Ramona. There is a girl named Susan, with springy long curls that sits in front of Ramona. Ramona can't control herself from wanting to stretch out a curl and watch it boing back into curl form. This gets her sent to the bench until recess.
Seat work is very challenging for Ramona. She finds it difficult to sit quietly and keep her eyes on her own work. She's too interested to see what everyone else is doing.
(I've known several children exactly like this!).
Part of the allure of these books for me is the illustrations by Louis Darling.
I adore these pictures and feel they add so much to the stories. I've used the original covers in this post. You will hard pressed to find these covers now, except for the first
Henry Huggins
and
Ribsy
which have both been reissued with the original covers.
I love this picture. Here is Henry, so obviously irked with pesty Ramona who is closely following behind him trying to step on the backs of his shoes.
(I've known a few children like this before too).
One scene which I've always found hysterical, especially upon becoming a parent, is when Ramona's mother convinces her to play and pretend "school bus stop" where she sits on a chair in the driveway, pretending to wait for the school bus to pick her up. Ramona does this for quite awhile, and her mother probably got some peace and few things done inside. Older children find this funny, but really that one is for the parents, right?
The first two Ramona books are my favorites. Eventually Beverly Cleary continued with Ramona as she grew up. The books written during the 1970's and 1980's, while good, seemed to center on more "realistic" situations and dramas, such as Ramona's father losing his job, trying to quit smoking, etc. etc.
The last of the Ramona books was written in 1999. I haven't read this one. I like the middle Ramona books, but the first two have a sparkle and innocence that I adore.
Ramona's popularity grew and became a television show (I've never seen), a movie (I've also never seen), and even a stage play that I did see performed at the Minneapolis Children's Theater. I was thrilled to see it, but it didn't capture what I loved in these first books, and felt flat and depressing for me. It centered more on the older books, and while funny at times, misses some of that beautiful innocence I love in the first books.
Several other books to note:
Beverly's second book was
Ellen Tebbits
in 1951
This is sweet and a wonderful read too.
The beginning of the story follows Ellen to ballet class where she has a horrifying secret.
In 2013 America that would be something heinous, in 1952 it meant that she was still wearing woolen underwear and didn't want it to bunch and show at class.
One of my favorite chapters in the book is when Ellen tries, and struggles, to bring a giant beet to school.
I love this illustration of Ellen and her friend clapping out erasers. You can almost taste the chalk dust can't you? Sadly this picture is dated and has no relevance for kid's today. Smartboard dry erase markers don't need to be clapped out.
She also wrote the fun series centering on Ralph S. Mouse.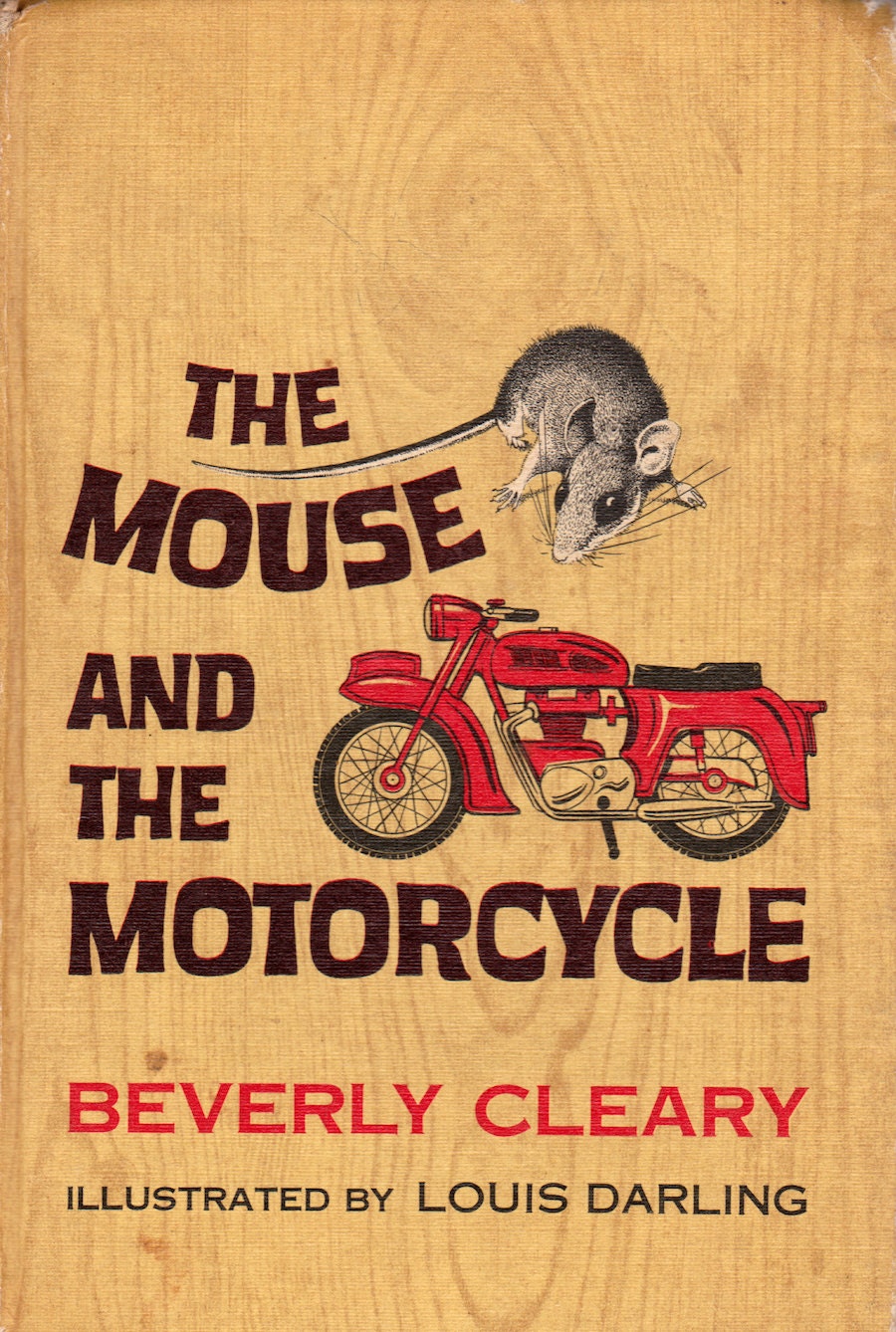 The Mouse and The Motorcycle
in 1965
Runaway Ralph
in 1970
Ralph, and these books, are pretty cute. I don't like mice and I'm recommending them. That says something. I really, REALLY don't like mice, but Ralph is ok.
Fun reads too!