This is just a little diatribe on mice. I dislike them.
I dislike them a whole lot.
And the other day when I was blogging about Beverly Cleary I realized I didn't really mind Ralph S. Mouse. He is the infamous mouse in her book
The Mouse and the Motorcycle.
It made me pause and think of how prevalent mice are in children's literature. Why is that? It's not like there are an equal amount of books with other animals such as kangaroos or sloths.
I realized that there are quite a few books with mice in them that I like, some that I absolutely love!
Here are a few:
Anatole
(1957 Caldecott Honor Medal)
by Eve Titus
Anatole and the Cat
(1958 Caldecott Honor Medal)
by Eve Titus
Anatole works in the cheese factory, tastes the cheeses and leaves notes with what is needed to make the cheeses even better. Subsequently the cheese factory becomes the most popular producer of French cheese.
I don't mind Anatole, maybe it is because he is French. I try to ignore the fact that he is nibbling at the food. That helps me stay on the side of liking him.
Both books are Caldecott Honor winners with illustrations by the illustrious Paul Galdone.
The Anatole and the Cat cover isn't my favorite I decided. He looks a little to much like a real mouse in that one...but never mind - he is French.
Basil of Baker Street
by Eve Titus
Eve Titus and Paul Galdone also collaborated on a series of books of the mouse detective Basil. He is a mouse Sherlock Holmes. In fact he even lives in and works out of the cellar of Sherlock Holmes residence on Baker Street. He solves all matters of mysteries in the mice world.
Mrs. Frisby and the Rats of NIMH
1972 Newbery Medal
by Robert C. O'Brien
For starters, this book has been published with about 10 different covers since first being published.
Most people understand different cover, same book inside - except for the majority of my library patrons. I have to convince them of this often.
Never-the-less, Mrs. Frisby is one of the most heroic loving mothers of literature. Really. She is that amazing. She's so great that I forgive her for being a mouse. Mrs. Frisby, a widowed mouse, learns her home will be plowed under and needs to move her family, but one of her children is ill and cannot be moved. She is desperate as she realizes without doing something her son will die. She seeks help from the rats who live under the rosebush. (Little mice are frightened of rats and this is where the love of a mother overcomes her fear). Nicodemus, one of the rats, explains how they are all escaped from a laboratory where they had been fed mind enhancing drugs - these rats are brilliant. They are also indebted to Mrs. Frisby, yet she does not enter into this knowing that. It's a great read.
The Tale of Despereaux
by Kate DiCamillo
Oh the love I have for Despereaux...the small mouse who doesn't seem to matter, and his interactions with other characters, who also don't seem to matter - a mouse, a rat, and a peasant girl. It is a beautiful story of the depth of love. It is wonderful and one I highly recommend reading! It is a great story for reading aloud.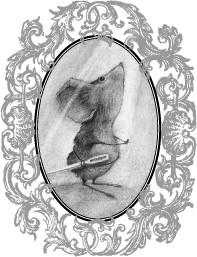 I found a website with the entire book online - free:
The Tale of Despereaux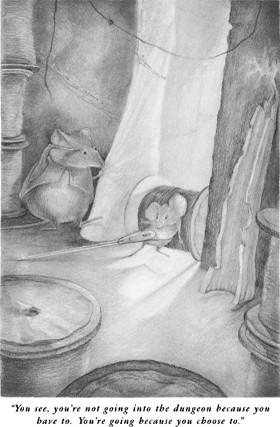 T
he Rescuers
by Margery Sharp
The Rescuers was turned into a movie by Disney in the 1970's. But don't let that stop you from reading the book. The Rescuers and the subsequent book with Miss Bianca are wonderful adventures of mice who are part of the Prisoners' Aid Society of Mice. They are a benevolent society which tasks themselves with befriending human prisoners and helping assist in daring rescues.
The movie was my sister's favorite and we had the LP story that we listened to over and over again. I can still recite lengths of dialogue from the record. It's a cute movie and this book is wonderful and a fun adventure read.
One of the added bonuses is that Garth Williams did the illustrations. That alone should propel you to pick up a copy!
Miss Bianca
by Margery Sharp
Miss Bianca continues the adventures of the rescues.
The Great Christmas Kidnapping Caper
This may be more of a challenge to get your hands on. But it's a fun, light hearted read of some mice who live inside Macy's and make friends with the stores Santa Claus. When they are convinced he has been kidnapped, they set out to rescue him.
Maybe Macy's squashed this book. Who want to think of bands of mice living inside department stores? Even though, true story, one day at Macy's at Ridgedale Mall a mouse ran under a display table. My sister pointed it out to me nonchalantly, like that wasn't going to freak me out.


Not all mouse books are good however.
My son LOVED this book and I never liked it, and never was thrilled reading it. But I did because he loved it.
The Little Mouse, The Red Ripe Strawberry,
and The Big Hungry Bear
Another book by the Wood's that I adore the illustrations for, but in the end has a yucky mouse scene is
The Napping House
Some of the illustrations are so pretty. Everyone naps on a gloomy rainy day, until the bed breaks and the sun comes out. My son didn't like this actually, he hated the picture where the bed broke. I didn't like that a mouse had crawled on top of the people sleeping so it didn't get much time at our house.