The excitement builds...I have three days remaining of the school year and then the joyful freedom of summer arrives! I'm still not fully sure what the summer entails but I have begun to compile my pile of books to read. I've also had several requests for book suggestions for children, and I love to compile lists so I will post several entries with different leveled lists.
Here goes the first one - Picture Books.
Summer Reads - Picture Books:
Picture books are great for anytime of year, but here are some with a summer feel.
Up North at the Cabin
by Marsha Wilson Challs
Pictures by Steve Johnson (Minnesota resident)
This book captures the quintessential summer cabin vacation in Minnesota.
Complete with beautiful illustrations.
Paddle-to-the-Sea
by Holling Clancy Holling
1942 Caldecott Honor Award
The classic story of a small carved figure in a canoe that travels through the Great Lakes.
This is a loooonnnnggg picture book. Don't pull it out and expect to read it for a bed time story!
(long ago I made this mistake).
The story is wonderful and the illustrations are as well. There are also facts about the Great Lakes such as how Lake Superior looks like a wolves head.
Just Plain Fancy
by Patricia Polacco
Two little Amish girls find a specked egg in which a very fancy "chicken" hatches and they worry that this fancy bird will be shunned.
Raising Yoder's Barn
by Jane Yolen
Illustrated by Bernie Fuchs
The story tells of an Amish barn raising.
Fire Flies
by Julie Brinkloe
The simple joy of fire flies and capturing them in a jar. A young boy enjoys the experience then realizes he cannot keep the little flickering lights in a jar and chooses to release the fire flies back in the night.
When We Go Camping
by Margriet Ruurs
Beautiful.
The Storm Book
by Charlotte Zolotow
pictures by Margaret B Gordon
1953 Caldecott Honor Award
A lovely book detailing a summer storm.
A Tree is Nice
by Janice May Udry
pictures by Marc Simont
1957 Caldecott Medal
A tree is nice, yes it is.
Everglades
by Jean Craighead George
paintings by Wendell Minor
A beautiful (and I do mean beautifully illustrated!) book of the Florida Everglades.
Great for the young naturalist!
The Seashore Book
by Charlotte Zolotow
paintings by Wendell Minor
A great coupling of words and paintings. This book really captures being by the seashore.
Little Farm by the Sea
by Kay Chorao
A lovely little farm by the seashore. This is one of those books that you notice new little details each time you read it. You will want to pack up and move to this farm!
Island Boy
by Barbara Cooney
Lovely story about a young boy and his large family that live on a small island in Maine.
Another Barbara Cooney book to read is
Roxaboxen
The magical world children create called Roxaboxen, or what children do when they shut off the television and go outside to play!
And Then It's Spring
by Julie Fogliano
Really a good Springtime read, but a lovely illustrated book that shows the transition to spring, including what is happening in the ground and resulting in the green of summer. I can relate to the young boy in the story because he is very fed up with winter and decides to plant a garden.
Houses from the Sea
by Alice E. Goudy
illustrated by Adrienne Adams
1960 Caldecott Honor Award
Two children collect shells at the ocean. Beautiful illustrations and many facts about shells and what their world in the sea may be like.
The Moon Jumpers
by Janice May Udry
pictures by Maurice Sendak
1960 Caldecott Honor Award
Children stay up late on a summer night, dance in the moonlight and try to jump and touch the moon.
Wave
by Suzy Lee
Wordless book of a young girl playing at the beach.
Step Gently Out
by Helen Frost
Stunning close up photos of the miraculous world around us.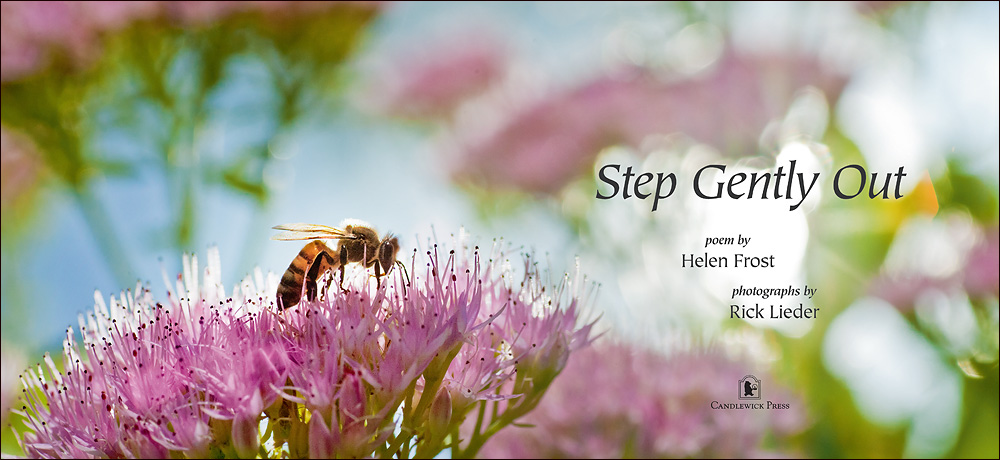 How to Heal a Broken Wing
by Bob Graham
No one else notices a small bird fall to the ground, except Will. He takes the small bird with a broken wing home, and hopes to nurse it back to health.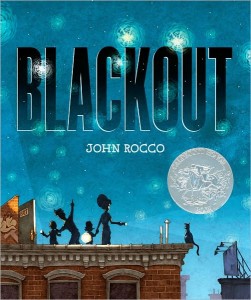 Blackout
by John Rocco
2012 Caldecott Honor Award
What happens in an urban New York City setting during a city-wide blackout. A disconnected family (everyone is plugged into electronics) comes together and views the stars, plays game by candlelight and has a wonderful time!
a note on this book, when the family strolls through their neighborhood, there is an "alternative" family. Some people have an issue with this in their books, and if you do be aware that it is there.
Lastly Robert McCloskey never disappoints. I've raved about him before, but he has three books that are so perfect for summer (and definite must reads!)
Blueberries for Sal
1949 Caldecott Honor Award
A lovely late summer day adventure of berry picking and mixed up children.
One Morning in Maine
1953 Caldecott Honor Award
Time of Wonder
by Robert McCloskey
1958 Caldecott Medal