When a child learns to read, a whole new world is opened up to them. Understanding the written word and discovering the joy of books is a wonderful stage of life. Often times the problem is discovering that the books for early readers are dumb, babyish, or lacking a real story. It can often be disheartening to discover that the only books you are able to read are boring school primers and babyish single word books.
In 1957 the book
Little Bear
was published. It was a beginning reader book, the first from the I Can Read! series. It had delightful stories by Else Holmelund Minarik, and beautiful artwork by Maurice Sendak. It began the wonderful series of creating good stories, with great artwork for children learning to read.
Arnold Lobel entered this series in 1963 as the illustrator of Betty Baker's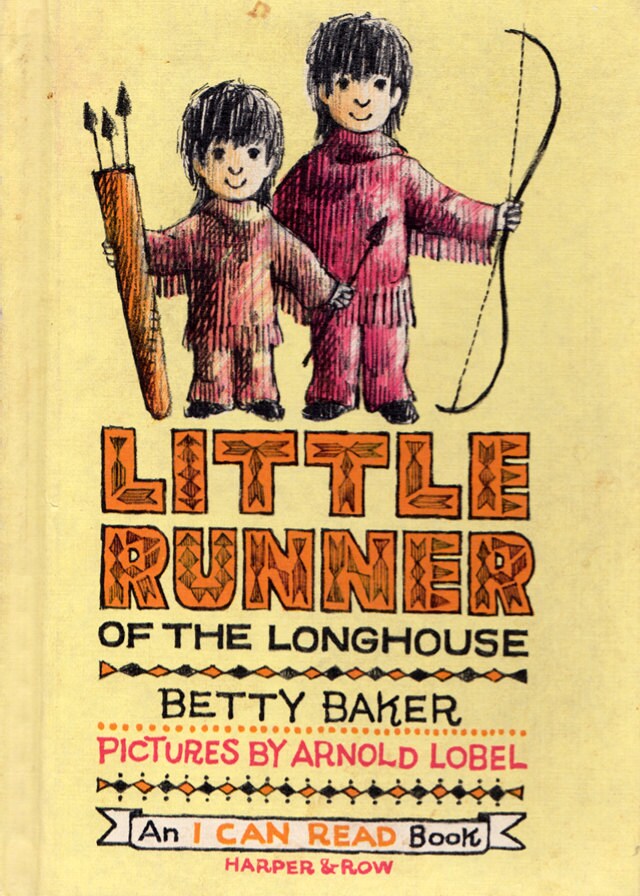 Little Runner of the Longhouse
(1963)
by Betty Baker
Pictures by Arnold Lobel
Sadly this book is long out of print. You could maybe find at your library, or used on Amazon. Political correctness has been the death knell of any book of Indians, unless presented as factual accounts of Native peoples. That being said, considering I am not Native, maybe I am insensitive to the issues, but personally I lament the loss of many of these titles. This being one of them. It is a charming story.
Red Tag Come Back
(1961)
by Fred Phleger
pictures by Arnold Lobel
The first "Science I Can Read Book".
A boy adopts a salmon. This book tells of the life cycle of a salmon.
note: obviously this was Arnold Lobel's first illustrated I Can Read book. Oops.
Let's Get Turtles
(1965)
by Millicent E. Selsam
Drawings by Arnold Lobel
This was a well read book at my house growing up. Another book that was one of my brother's favorites. This follows two boys and their pet turtles. It contains many facts about turtles.
Another great read enhanced with Arnold Lobel's drawings, and another family favorite growing up
The Secret Three
by Mildred Myrick
drawings by Arnold Lobel
I put this on my summer must read list for young readers.
Two boys summering at the ocean find a third friend after finding his message in a bottle.
It has some good information on tides and sending secret codes. It's a really fun story, although sadly out of print. Check the library or find used on Amazon.
Miss Suzy
(1964)
by Miriam Young
Pictures by Arnold Lobel
This was another very well loved book at my home growing up. It told of dear sweet Miss Suzy, a gray squirrel who lives in a tree until chased away by some mean red squirrels. She finds a dollhouse to live in and makes friends with the little red soldiers.
This book helped me to look informed about animals later in life as a parent. I have a child who is an animal know-it-all. One day we were watching a gray squirrel be chased and terrorized by some red squirrels in our yard. My son asked me if I knew that even though red squirrels are smaller, that they are much more aggressive and mean to gray squirrels? Yes, yes I did. Thank you Miss Suzy.
The illustrations in this book are beautiful.
See. Red squirrels are thugs.
Of course Arnold Lobel is probably most famous for his books of Frog and Toad. These are the most beautiful stories of friendship. They are wonderful to read aloud, and are also wonderful for beginning readers. Remember that these fabulous stories are written as I Can Read books! The stories are sweet, and funny, and often times have a deeper sense to them. They have moments of chuckling such as when neither Frog nor Toad cans top eating cookies (they are so good!)
Or when they go swimming and a crowd gathers to laugh at Frog because he looks funny in his bathing suit.
The stories delve into deep issues and feelings, such as the story "Tomorrow" in which Toad works on his issues of worrying about "tomorrow". Or in the story "Alone" when Frog wants to be alone so that he can appreciate how wonderful everything is.
The beauty in these stories is that their is a deep quiet within them. They are truly stories of beauty.
Frog and Toad are Friends
by Arnold Lobel
1971 Caldecott Honor Award
Frog and Toad Together
by Arnold Lobel
1973 Newbery Award Medal
I love this. This is me.
Frog and Toad All Year
by Arnold Lobel
Days With Frog and Toad
by Arnold Lobel
He also wrote several other I Can Read books that are also worth reading.
Mouse Soup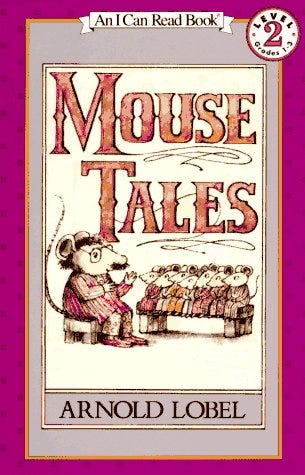 Mouse Tales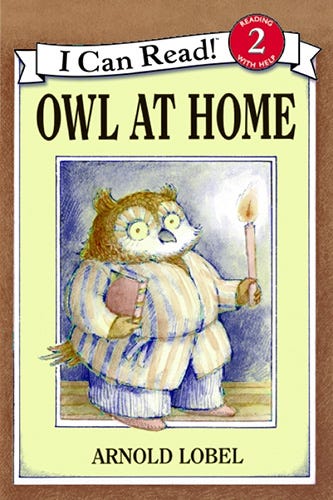 Owl at Home
Grasshopper On the Road
Uncle Elephant
Lobel was also awarded the Caldecott Medal for
Fables
by Arnold Lobel
1981 Caldecott Medal
A collection of 20 different fables
Hildilid's Night
by Cheli Duran Ryan
illustrated by Arnold Lobel
Caldecott Honor Award
An old folktale of a woman afraid of the night, and how she tries to get rid of it.
An alphabet book he wrote illustrated by his wife Anita, in which she won the Caldecott Honor Award.
On Market Street
by Arnold Lobel
pictures by Anita Lobel
1982 Caldecott Honor Award
Each page is filled with objects that begin with that letter of the alphabet.
Arnold Lobel illustrated for many different famous children's authors. One of my favorite collaborations was with Charlotte Zolotow.
The Quarreling Book
by Charlotte Zolotow
pictures by Arnold Lobel
Each person acts gruff and cross with each other and each quarrelsome act is passed on from person to person until a little dog changes the course of things. This is a great book about a regular family. Who hasn't had a day like this?
It was a rainy gray morning, and Mr. James forgot to kiss Mrs. James good-bye when he left for the office. Mrs. James felt quite cross because of this and because the rain made the day so gray. So when Jonathan James came down for breakfast, she was sharp with him.
Someday
by Charlotte Zolotow
pictures by Arnold Lobel
A little girl talks about all the things she will do and be "someday". A very sweet book.
One last book, another favorite in my house growing up
The Magic Spectacles
by Lilian Moore
illustrated by Arnold Lobel
This is my end of Arnold Lobel books, but the list truly goes on and on. He wrote and illustrated many wonderful books.
Enjoy!