This is where it really starts to get fun. There are SO MANY great books in this category.
I decided to try to recommend books that tell of a simple childhood and/or summer theme.
I recently wrote about Henry Huggins. You can read more of that here:
Life on Klickitat Street
But some of Beverly Cleary's books would top this list.
Gone-Away Lake
by Elizabeth Enright
1958 Newbery Honor
Two children go to spend the summer with their cousin. While exploring, they find an old Victorian resort next to a bog. What and who they find their will change their whole summer.
Thimble Summer
by Elizabeth Enright
1939 Newbery Medal
Garnet finds a silver thimble in a dried up creek bed. She believes it is a magical talisman that causes all the wonderful events of the summer to happen.
Not planning to go on and on about Elizabeth Enright but here I go...
The thing about Elizabeth Enright is that her books were written in the 1930's and 1940's. You can tell. They are wordy (Yeah!) and they are wonderful. They are dated in all the best kind of ways. These are all filled with children who are outside playing, enjoying nature and having fun.
The Melendy books don't center around school but really are all stories within the family setting. Their adventures will fill you with joy.
The Penderwicks: A Summer Tale of Four Sisters, Two Rabbits, and a Very Interesting Boy
by Jeanne Birdsall
Delightful adventures of four sisters and their summer escapades at Arundel with the boy who lives there. An old fashioned romp!
There are two subsequent books (which I haven't read) but if they are similar to this, I'm sure they are also great reads.
The Moffats Series
by Eleanor Estes
Another fun family and their adventures and escapades, set during World War I.
The Moffats (book #1)
Middle Moffat (book #2)
1943 Newbery Honor Award
Rufus M. (book#3)
1944 Newbery Honor Award
The Indian in the Cupboard
by Lynne Reid Banks
Omri receives a birthday gift that isn't very impressive, until he realizes what the gift can do.
A great boy read.
I always liked to pick a theme for summer reading. One year we did tall tales.
Some good ones are:
American Tall Tales
by Mary Pope Osborne
Many of the charcaters you are familiar with such as Pecos Bill, Johnny Appleseed, Paul Bunyan, John Henry, Davy Crockett, and several others less familiar. There is also a map included which shows which areas of the United States each legend originated.
Paul Bunyan: Twenty-One Tales of the Legendary Logger
by Esther Shephard
21 tales of Paul Bunyan. This is a rich collection of stories. A fun read aloud for summer nights.
A Long Way From Chicago
by Richard Peck
1999 Newbery Honor Award
Joey and Mary Alice spend their summers with their grandma. Grandma Dowel is larger than life! This book is full of tall tales and is laugh out loud funny!
A Year Down Yonder
by Richard Peck
2001 Newbery Medal
This sequel to the previous book continues with Joey, Mary Alice and Grandma Dowel. This book does a great job following the first book!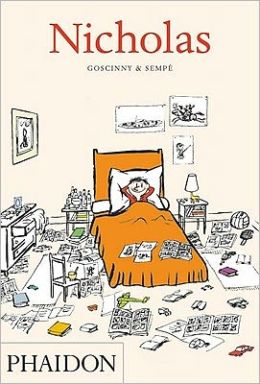 Nicholas
by Goscinny
Before Rene Goscinny created the comic hero Asterix, he wrote a delightful series of books telling the stories of a small French school boy, Nicolas.
Eventually these were translated and now are available for us.
The stories are told by Nicholas and have the same underlying humor that Goscinny instills in the Asterix comics. Nicholas always finds a way to end up in mischief. These stories are funny and have many layers for the young reader as well as the adult.
Try a Nicholas story here:
http://www.guardian.co.uk/childrens-books-site/interactive/2012/aug/17/petit-nicolas-story